Parrot version 3.9.8 and newer
Google Play has recently changed their policies to not allow the permissions we need to record phone calls. You can read about it here: https://www.androidauthority.com/google-killing-call-recording-apps-3155610/

This was completely out of our control. If we had left phone call recording in the Parrot directly, Google may have banned Parrot and removed it from the store.

However, we launched Freebird as a FREE separate app on the Galaxy Store, Amazon (soon) and a direct download. Parrot Pro users will have access to the integration to automatically sync phone call recordings to Parrot.


Freebird has a very familiar phone call recording experience. You run through a few setup steps to allow permissions, connect phone call services and enable the Parrot Pro integration. It only takes one minute.


Once set up, your phone call recordings will be synchronized to Parrot automatically as they are made.
Your purchase of Parrot Pro enables this synchronization (it's not available in the free version), so you are still good to go.

What happens to my old recordings?
Your old phone recordings remain in Parrot, they are unaffected by this change.


How do my tracks get sync'd to Parrot?
After your phone call is recorded on Freebird, it will silently be transferred to Parrot, then deleted from Freebird.

Can I use Freebird without Parrot?
Yes, it is possible to use Freebird without Parrot. However, its functionality is very limited: you will only have access to your most recent phone call recording, you cannot playback recorded tracks and there is no cloud backup.

Do I need Parrot Pro to integrate with Freebird?
Yes. Parrot Pro is required for the integration with Freebird. Without Parrot Pro, tracks will not be synchronized to Parrot.


Parrot version 3.9.7 and older
You can access an array of settings for Phone Calls by opening the side menu (three lines in the top left), then tapping the "Phone Calls" row.
Be sure to enable the permission to support Phone Call recording on Android 10. You will need to allow both Parrot Link for accessibility and Call Widget for displaying our widget on the screen while your phone is recording.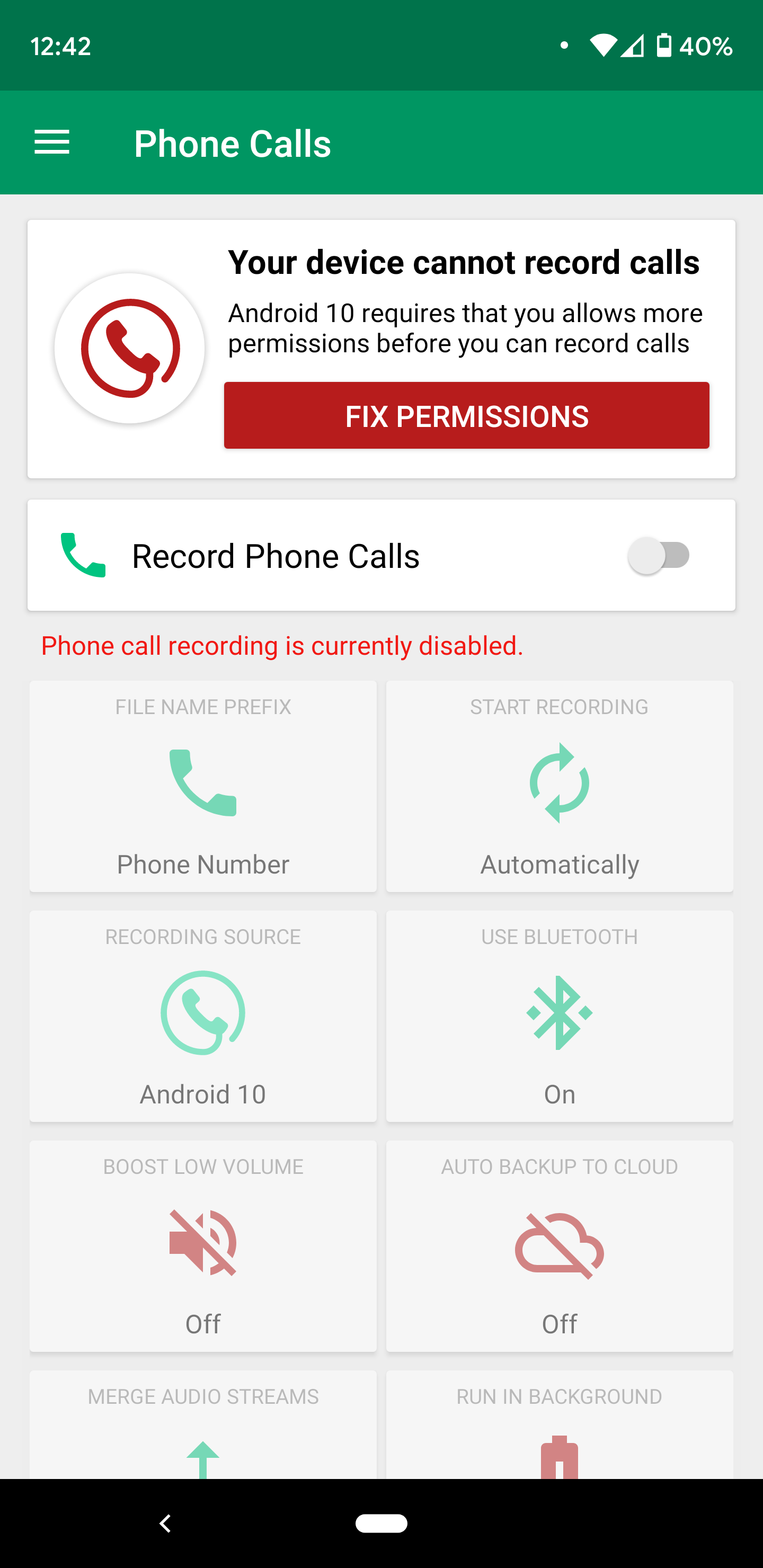 From the Phone Calls screen, you can adjust the "Source" setting to be Android 10.